Henry Lyons has been working with and for the Sligo community for over 180 years. Henry Lyons Department Store was established in 1835 on Lower Knox Street.
Henry Lyons has always been an innovator and keen to increase sales as part of that they produced a seasonal brochure which contained all items that were for sale in the shop. They also ran a wholesale business and served from Belmullet to Tory Island.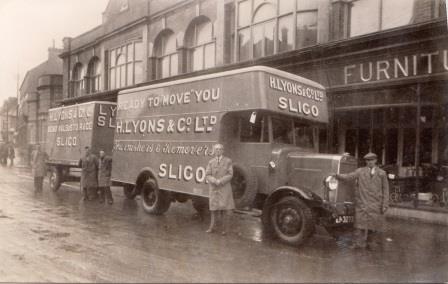 When the First World War broke many of the staff went to fight about 25% in total. They were replaced mostly by women at that time. Their names are all recorded on Henry Lyons Roll of Honour. 
During the war of Independence (mid 1920's) Cecil Lyons sent a boy to Dublin every day to collect a national newspaper which was pinned to the front window of the shop for everyone to read as newspapers were not readily available at that time. The Black and Tans broke the shop window, the only result was that the paper reappeared and Cecil Lyons started to make uniforms for the Citizen Army.
During the Civil War the famous (well known) Taylor's loft had both sides working there making all the suits trousers and coats tec. for the shop. A rule was made that all firearms were to be handed in on arrival and they would be returned after work. This was maintained all through the Civil War.   
There has been four generations of Lyons's to help run the business. In the 1960's John Martin became Managing Director with Rowland Blennerhassett both these men kept Henry Lyons Department Store trading as John Lyons died and had no family member to old enough or have the interest to help run the shop. Richard Lyons joined the shop in 1974, and in the 1980's converted the department store in to franchise business.
In the last number of years new business have been added such as; Ophelia Lingerie, Wallis ladieswear, Dorothy Perkins Clothing, Bakeshop, Carl Scarpa Shoes, Wood's Gift and Rectella Soft Furnishings. All the franchises work hard to keep their businesses going. We have been open for 180 years and hope to continue to help our customers for the future.